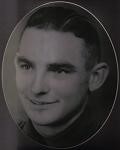 Barry McManus joined the Militia in 1938 and left Australia on February 4th, 1941 on board the Queen Mary bound for Malaya.Barry became a prisoner of war in February 1942 and spent six months in the Changi prison camp before being sent to Thailand to work on the infamous Thai-Burma railway, which was completed in 1944. The last twelve months of the war he spent working in the copper mines on the island of Shijoku, just off Japan.
Barry's fortitude and courage enabled him to survive the horrendous hell camps in which he was imprisoned for nearly four years.
Barry married Ada in 1946, moving to Engadine in 1948. Working as a roof tiler and bricklayer until his war injuries forced an early retirement.
As the population of Engadine grew, Barry and Ada realised there was a real need for something to be done to give boys an opportunity to participate in playing sport and so began the formation of the Engadine Dragons.
Barry was the Club's President for both Cricket and Rugby League from 1959 to 1963 and was duly honoured with life membership by both clubs.
In 1960 to 1962 he was Secretary of the Boys Committee for the Sutherland Shire division of the St. George Junior Rugby League and also delegate to the St. George Junior Rugby League. Then, in 1963, the Cronulla-Sutherland Junior League and the Sharks grade club were formed with Barry as Secretary of the Sharks 2nd division team in their formation year. The Cronulla-Sutherland Junior League rewarded his services with life membership.
Barry was also a committeeman with the Sutherland Shire Junior Cricket Association from 1960-1963 and he also coached Representative teams besides coaching our Club sides with his wife Ada doing the scoring.
Barry was also involved with the RSL movement in which he served with great distinction for countless years. Some of his achievements were:
Life Membership of RSSAILA
Life Membership of Engadine RSL Memorial Club
Past President of both these bodies.
Life Membership of Engadine RSL Fishing club.
Barry was also deeply involved with the welfare and legacy functions of the RSL movement.