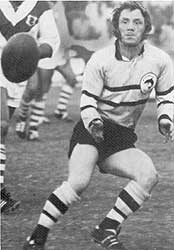 Inaugurated by our Club in 1971, it was metropolitan knockout competition for Under 7's. It is now established as probably the best and certainly the most entertaining knockout competition in NSW.
The Tommy Bishop Shield was played at the Anzac Oval grounds in Engadine from 1971 to 1976 and was passed over to the Cronulla-Sutherland Minor League in 1977 and played at the Endeavour Field (now Toyota Park) ever since. The winners in 1971 and 1972 were teams of the Engadine Dragons and some of the then seven year olds were well known personalities in Sydney Football circles – Mark McGaw, Michael Porter and Brett Longville.
The story goes that at the end of the 1971 season the New Zealand Under 14's side of TE ATATU were invited over for an end of season game by a junior club in the Cronulla-Sutherland District. This club could not fulfill its commitments, so the Secretary of the Engadine Dragons at the time, Graeme Morrison, took on the New Zealanders and accommodated them. It would not have been much of an event with one game only, so Graeme tried to organise a knockout event for the undefeated Engadine Dragons Under 7's. Eight clubs agreed to come to Engadine to participate as support entertainment for the main attraction, namely the Under 14's game between Engadine and Te Atatu. The eight districts were South Sydney, North Sydney, Penrith, Parramatta, St George, Western Suburbs, Balmain and Cronulla-Sutherland. South Sydney's Zetland Juniors met Cronulla-Sutherland's Engadine Dragons in the final which was won by the later side with the match winning try being scored after the bell by Mark McGaw. There were between 2,000 and 3,000 people at Anzac Oval that day with all three ovals being used thanks to the co-operation of the local soccer club. The then President of Cronulla-Sutherland Junior Rugby Football League, Arthur Horner officiating by presenting the Tommy Bishop Shield to the winners.
The under 7's being small and Tommy Bishop (captain/coach of the Sharks, former captain of the Great Britain team and a patron of the Engadine Dragons) not much taller, was asked if he would allow his name to be used. He agreed and the rest is history.
The inaugural Tommy Bishop Shield day was such a success that all the participating districts wanted to send a team the following year. The following years the number of participating districts had grown and in 1977 the Cronulla-Sutherland Minor League took over and carried on the traditional annual event and the number of teams growing each year.
The Tommy Bishop Shield is more than a competition now, it is an institution everybody wants to be in. To win the Tommy Bishop Shield is the most sought after trophy in junior league today.
From 2016 it is played in the under 8 age group.
Engadine Dragons results:
1971           Winner
1972           Winner
1976           Runners-Up
1982           Winner      Click here for photo
2018           Runners-Up